In this highly contentious world, it is evident that almost everyone has an opinion. Although having an opinion is not necessarily bad, opinions should be based on some verifiable evidence. That evidence should extend beyond the opinions of other so-called "thought leaders" by including data and information that has been subject to sufficient rigor and objective collection and analysis.
The practice of economic development is not relieved from this challenge. Economic developers are quick with their prognostications and inferences relating to policy and strategy recommendations. Weaknesses become exposed when you ask practitioners about the data and information from which their opinions are based. Frequently, the sound of crickets follows, or they defer to the comments of others, or a report that they heard about but did not read.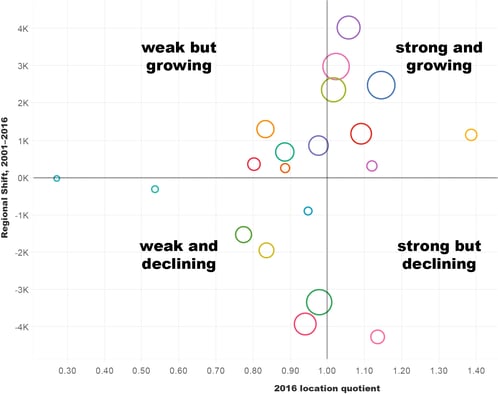 The purpose is not to criticize the practice of economic development. The intention is to challenge our approach to how we talk, think, and act when it comes to planning the future of our local, regional, or statewide economies. More specifically, the economic development process should be built on data and information including both secondary and primary data. We need to expect more from our economic development programs, organizations, and professionals.
Not all data is created equal. It is not uncommon to confuse correlation with causation or failing to understand and communicate the assumptions and limitations of the data used. And there are those who massage the collection and analysis of data to support predefined positions and/or beliefs. Remember the adage, "statistics lie, and liars use statistics." Nevertheless, these challenges should not be an excuse to forgo the collection and use of data to guide and facilitate public and political conversations and actions in planning for economic, fiscal, and community health and prosperity.
A foundational element to a professional economic development program is data and the analysis of same. This data foundation leads to better, more informed conversations around an area's strengths and weaknesses as well as the designing of strategies to mitigate and capitalize on these attributes. Data collection and analysis are also key elements of efforts to monitor the effects of these strategies and to make ongoing corrections, which will be necessary in a world that is changing continually.
What are the broad categories of data types and analytical techniques? First, economic base analysis to understand the structure of an economy including competitive strengths and the relationship between national economic trends and area impacts. Second, workforce attributes including demographics, skills, education, employment, and wages as well as the output and performance of primary, secondary, and higher education institutions. Locational assets such as housing, commercial real estate, and infrastructure including the availability, cost, and quality of these assets. The measurement of various quality of life issues including public safety, health, and wellness. Finally, locational costs including taxes and fees. These data types should not only be area specific, but they should also be comparative with other markets with which the area competes for population, jobs, and investment.
The Economic Development Foundation of Rhode Island recently pivoted from a six-decade long strategy of developing corporate real estate locations. The EDFRI is now repositioned to provide high quality, data driven economic development advisory and consulting services to cities and towns, as well as owners of commercial real estate. EDFRI is positioned to provide an experienced and flexible option for cities and towns to significantly enhance their economic development efforts. EDFRI is also uniquely qualified to work with owners of commercial properties that may be faced with the need to transition in a fundamentally changed, post pandemic market.
Give us a call for a no obligation conversation about your needs and how EDFRI can assist. Best wishes in 2023!